Zapier is an online automation product that connects apps and services. You can connect two or more apps to automate repetitive tasks without coding or relying on developers to build the integration
In this guide we will demonstrate three integration – Sync contacts from Google Contacts to inwise.
First, log in to your Zapier account.
A Zap is an automated workflow that connects your apps and services together. Every Zap consists of a trigger step and one or more action steps. When you turn your Zap on, it will run the action steps every time the trigger event occurs.
To create a new process, click "MAKE A ZAP" (1).

Sync contacts from Google Contacts to inwis
First, add a trigger:
Choose your trigger app – Google Contacts. The Zap will be triggered by an event that occurs in this app (1).
Select the trigger "Trigger Event" (2).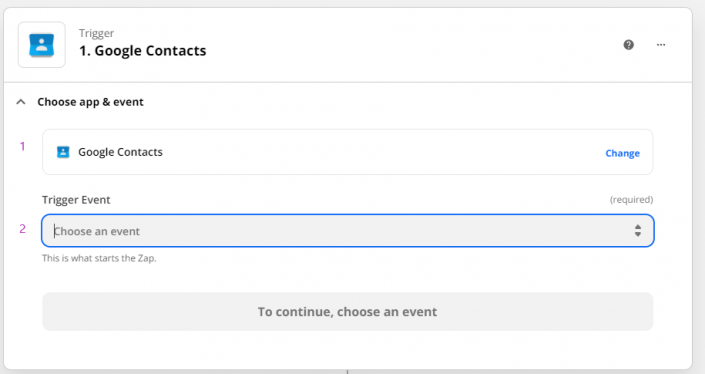 Now, approve access to your Google account.
Select the relevant contact group or leave it at default "All contacts".